Minimalism thrives in New York's Hamptons.
In the idyllic and also more than slightly insane seaside town of East Hampton, New York, just a mile away from waves crashing on to sandy shores and a rustic windmill that has turned in ocean air since 1806, austere arrangements of lines and grids serve an atmosphere of a markedly different kind. Tubes of bright fluorescent light shine in alternately inviting and estranging tones, with strategic deviations between extremes at different ends of a spectrum. Exacting patterns play out in measured stacks of metal boxes placed matter-of-factly on a wall. Momentous paintings that only barely register as paintings at all command attention with nothing more in terms of subject matter than the subtlest distinctions between shades of white and grey.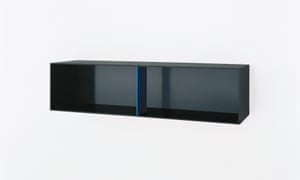 The occasion for the congregation of them all is Aspects of Minimalism, an exhibition of minimalist art. Much of it hails from the heyday of the minimalism in the 1960s and 70s, when the term was affixed to strains of painting and sculpture that could be seen as a reaction, a reduction or a reification in line with an idea that art is in the ideal state when – no more, no less – it is what it is.
The setting for the exhibition is Guild Hall, a small and charming museum where work of the kind looks both at home and alien in this world. Getting there from New York City takes about three hours on a train or a bus, through suburban terrain that transforms into a sort of pastoral paradise. East Hampton, of all the Hamptons that serve as exurban sanctuaries and resorts, is the most moneyed and manicured, beautiful but with an anxiety and tension to it too. Sit and eat lunch on a bench in the serene town center and observe a pompous man exit his Porsche with a vanity license plate reading BOTML1NE. Stroll the shops and spy a bathing suit photo-printed with an image of midtown Manhattan, perfect for the beachgoer eager to miss the point of going to the beach entirely. Drop into Harper's Books, a world-class destination devoted to rare and collectible art books, and lay eyes on an edition of a Donald Judd catalogue raisonné that can be yours but only for $8,500.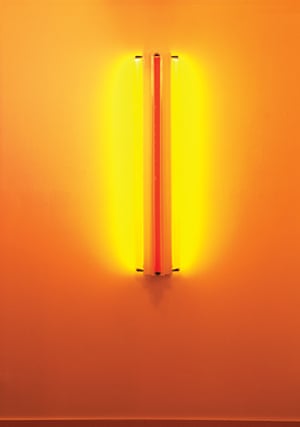 Money is hard to forget or avoid in East Hampton, but there is enough of it to want to privilege signs of good taste and discretion too. The simple beauty of the place is astonishing, in a way that fuses farmland with the sea. Swaying sawgrass, quietly imperial trees, white sand that leads out to the ocean's deep blue – it's a countryside Eden in many ways.
Inside Guild Hall, the environs are more reserved. For Aspects of Minimalism, visitors are greeted by wall text that aligns the exhibition with artists who "sought to remove any sign of personal expressivity, allowing the viewer to experience the work more intensely without the distractions of overt symbolism, narrative, and emotional content". Many of these artists, the text continues, were reacting squarely against the "gestural excesses" of abstract expressionism, "challenging the conventional boundaries between various mediums, subordinating authorship, and calling attention to the materiality of their works".
Materials vary, from felt (Joseph Beuys) and corten steel (Donald Judd) to gunpowder (Ed Ruscha) and graphite (Agnes Martin). But the materials matter less than the ways they are arranged, in most cases very particularly. A somewhat loose curatorial conceit makes for the inclusion of work that classes as minimalism in less than strict and definitive ways (Gerhard Richter, Ruscha, Bridget Riley and Andy Warhol), but the classics, as it were, appear at home in their shared company.
Judd features with four works, including a pair of horizontally splayed wall pieces suggestive of mathematical properties internal to the sculptures themselves and a vertical array of six rectangular boxes – Untitled (Hernandez 94.2), from 1994 – that seems to evince a sort of ecosystem with its mix of rusty orange weathered steel and green plexiglass. Elsewhere another untitled Judd box, on its own alone, plays games with empty space as defined by mercurial differences between black and navy blue.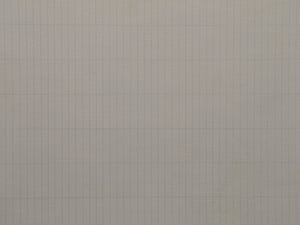 Among other work about measurement and more formal constraints, two large paintings by Martin breathe deep and subtly swallow up the air around them. The Peach, from 1964, tends toward a weighty grey with oil paint anointed by hazy silver pencil lines, while a later and much whiter work (Untitled #5, from 1989) seems to just hover in front of a viewer whose gaze goes nowhere and everywhere at once. The most material aspect of it is a shiny silver frame, echoed nicely by the placement nearby of a sculpture by Larry Bell comprising clear glass and similarly silver metal binding – just space, really, surrounded on all sides by windows to peer in.
All the art in the show, on view through 10 October, is from collections based on Long Island, all but one of the works belonging to Leonard Riggio, the founder and executive chairman of the Barnes & Noble bookstore chain. Having recently announced his impending retirement – and with art activities including years of significant patronage for the Dia Art Foundation – Riggio gave a lecture at Guild Hall on opening weekend, to about 50 museum-goers there on a sunny summer Saturday.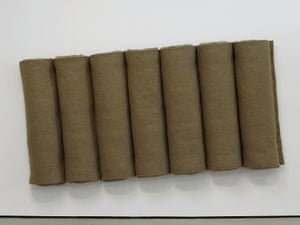 "We were not looking at art as an asset class as is now all the rage," Riggio said of his formidable collection. Minimalism, in a wide and ranging sense suggested by the exhibition, is among his favored modes, he said, for the ways it is "as elusive as it is profound". He professed to know a little about art – but, amiably, "not enough to make a fool of myself".
Considering minimalist icons in the context of a collection – as pieces to ostensibly be lived with in settings different than the museums and galleries in which they are most often seen – teases out elements of the work at odds with customary ways of regarding minimalism as totemic, remote and cold. As an aside in the Guild Hall show, a brief documentary by Chris Felver presents a portrait of the stalwart Judd at home in Marfa, Texas, the dusty desert town where he fashioned many of his gleaming pieces – less an alien aesthete and a looming legend than a guy in a plaid shirt with a lot of sun on his face.
The look of the art in Guild Hall guides it toward that kind of lived-in lineage, at least in part. Curved molding along the ceilings and soft carpet on the floors – something, anything different than the standard museum/gallery setting – can serve as a reminder of all the foraging and forging that went into making minimalism what it was at the start. Reading up on some history on the train, in the new book Eye of the Sixties: Richard Bellamy and the Transformation of Modern Art by Judith E Stein, the distance between art's creation by a bunch of bohemian scroungers and the ways it is most often encountered in antiseptic surroundings could not have been more clear.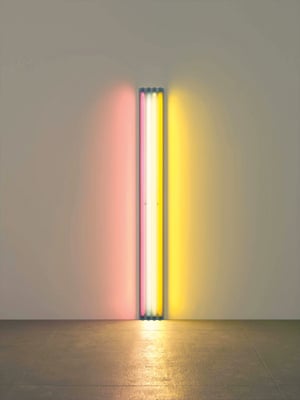 Bellamy was a prescient curator who identified many of the minimalists early, when their work was still negotiating its way out of a blessed mess. About Flavin, whose sculptures in fluorescent light prove prominent via four pieces in the Guild Hall show, Stein writes of a young artist who "scavenged the city for detritus that appealed to his eye". The image continues: "In his unheated apartment in the Meatpacking District he arranged his street finds with the care previous centuries lavished on their curiosity cabinets." Light bulbs were industrial materials before they were grist for artworks of ethereal power and grace. They were worldly more than is typically remembered in the historical record.
Another recent show, Carl Andre in His Time, at the Mnuchin gallery in New York, put similar work in a similarly unusual setting last year. It was a blue-chip gallery with a richly moneyed atmosphere, but a townhouse with ornamental detail work and dark wood on the Upper East Side is a long way from all the stark cement and white-walled uniformity elsewhere. In that show, minimalism by some of the same artists (plus Frank Stella, Sol LeWitt, Robert Mangold and Robert Ryman, among others) proved approachable and more receptive to a kind of curiosity that can linger. Works burrowed into corners and stuck out in spaces where a person could actually, conceivably live. A stack of boxes by Judd greeted gallery-goers at the top of a grand and winding staircase – an atypical tableau indeed.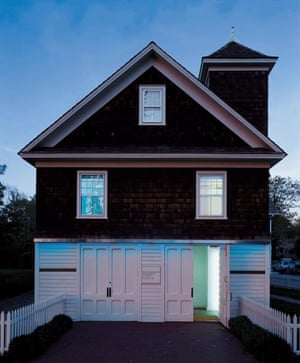 Another home for minimalistic experiences of the sort is, like Guild Hall, also out in the Hamptons, at the eminently rewarding Dan Flavin Art Institute in Bridgehampton, New York. In an unassuming building since 1983, when it opened to the public with support from the Dia Art Foundation after being arranged by the artist himself, the permanently installed display of Flavin's work with fluorescent light takes up a setting that was, more than a century ago, a small-town firehouse and later a Baptist church. A white picket fence runs along the outside, and the floors creak once inside through a weighty wooden door.
Upstairs is an assembly of light sculptures built into tiny hallways and alcoves that work in isolation and also interconnect. A single vertical red bulb greets you in the main space, glowing intensely in the center and softening as illumination from the tube disperses. The other pieces – with bulbs in pink, blue, yellow and green – grow more elaborate and complexly composed.
The colors seem to change as you make your way from piece to piece, or certainly to modulate in relation to one another. One that is deep green appears to be white after having looked at what follows, a trick of the eye or perception or perhaps not a trick at all. Blues and pinks seem to fluctuate in terms of intensity while staying static all the while. Slight openings through the ends of certain walls look different from one direction than the other, in a manner that makes less sense the more you try to figure it out. Wonder is more appropriate, or at least an openness to the kind of experience that can benefit from a lack of mediation.
Here is a refuge, all too rare and fertile whenever found, for minimalism to come home to a state where the worldly and otherworldly meet.
The article appeared originally in theguardian.com.